Selvol™ Ultalux SC Product Information
Advanced Hydration in Personal Care Formulations
Selvol™ Ultalux SC PVOH copolymer (INCI: VP/Vinyl Alcohol Copolymer) is a unique film former and adhesion promoter applicable in skin care, hair care and color cosmetics.
Selvol™ Ultalux SC provides a balance of film-forming performance and adhesion functionality with improved hydration for use in masks and peels, anti-aging creams and lotions, pore strips and scar treatment formulations. Selvol™ Ultalux SC is tested for high quality and purity and is verified as non-irritating on skin. The improved hydration makes it ideal for use in moisturizers, multipurpose creams and moisturizing masks.
Selvol™ Ultalux SC Functions
Adhesion promoter
Film former
Fixative
Moisturization
Viscosity enhancement/control
Applications of Selvol™ Ultalux SC in Personal Care Formulations
This polyvinyl alcohol copolymer can be used in cosmetics such as brow makeup, eye liners, eye shadow, and mascara; in hair care formulations for ethnic hair care/weaves, hair styling gels, and shampoos/conditioners; and in anti-aging products, body washes, facial masks and peels, pore strips, and scar treatment.
Selvol™ Ultalux SC Properties
| Grade | Viscosity, cps1 | pH2 | Tensile Strength, psi3 | Modulus, psi | Elongation at Break, % | Adhesion to Glass, g |
| --- | --- | --- | --- | --- | --- | --- |
| Selvol™ Ultalux SC | 1,400 – 1,600 | 5.5 – 7.0 | 1,500 – 2,500 | 3,250 – 4,250 | > 200 | 110 – 150 |
1. Viscosity of a 15% solution, 20°C
2. 4% Aqueous Solution
3. Tensile properties and adhesion were measured on films containing 12% PVOH and 3% glycerin after casting and drying in a controlled temperature and humidity room for 24 hours
Improved Hydration in Facial Mask Formulations
Selvol™ Ultalux SC, when compared to typical PVOH-based facial masks, imparts effective skin adhesion with flexible film-forming characteristics, exhibiting improved hydration.
Moisturizing Face Mask Formulation
Moisturization Ratio
(Area A/Area B)
Selvol™ Ultalux SC Face Mask
2.9
Typical PVOH Face Mask
2.5
| Ingredient | WT % |
| --- | --- |
| Water | 71 |
| Selvol™ Ultalux SC | 12 |
| Ethanol | 12 |
| Glycerin | 2 |
| PEG 400 | 2 |
| Propylene Glycol | 1 |
Procedure
1. In mixing vessel with high speed mixer, add 15% Selvol™ Ultalux SC Solution
2. Add in Ethanol, Glycerin, PEG 400, Polysorbate-20, Preservatives, Fragrances and Extracts, with blending
3. Allow solution to de-aerate so that it is free of bubbles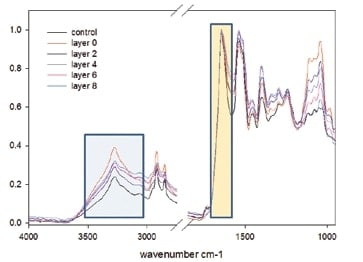 > 15% improvement in hydration

50% reduction in "Cook" time