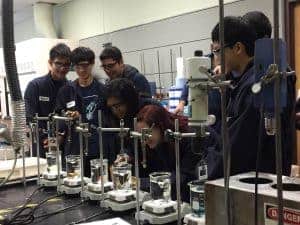 On Monday, May 15th, our Houston based team members had the opportunity to host 40 organic chemistry students from Dulles High School on a tour of our research and production facilities. The students toured our Houston Technology Center, exploring many new products we are preparing for market, and better understanding how we test the efficacy of these solutions scientifically. The student also toured our Pasadena Plant to learn how our products are made, and to illustrate differences between 'plant' careers and 'research' careers. Sekisui also hosted a career panel which included engineers, chemists, marketing professionals, and sales professionals from across our organization. Questions posed to the panel ranged from "Do chemical companies make you move often?" to bolder questions like "Can you give me a job?".
We thoroughly enjoyed hosting these students at our facilities. The student's excitement was contagious; our team members said it gave them new perspective on their own roles and our product lines. The students enjoyed the tours as well, stating that they "were pleasantly surprised that they are actually learning stuff in class that is useful in a real job".
Sekisui Specialty Chemical is dedicated to supporting STEM (Science, Technology, Engineering, and Mathematics) studies in all levels of educations. We hope to repeat this tour for Dulles High School's talented students next year, and possibly add schools close to our other facilities in future.