Sekisui Specialty Chemicals (SSC) has presented research at the Society of Cosmetic Chemist's Annual Technology Showcase since the launch of our cosmetic quality polyvinyl alcohol (PVOH), Selvol Ultalux. The annual showcase event, held in New York City at the beginning of December, is an opportunity for formulators and chemists from many countries to share and review the latest advances in personal care.
Last year, SSC showcased new research on the benefits of Selvol Ultalux AD in hair dyes. Our research showed that Ultalux AD has excellent cationic activity below pH 9, giving formulations containing this grade superior adhesion to hair, skin and other substrates. While Ultalux AD is ideal for various demanding applications such as exfoliating peels and pore strips, the research showed noticeable color fastness improvements in semi-permanent hair dyes.

The intense red color of the hair below, treated with Selvol Ultalux AD, illustrates the high amount of cationic sites on the treated hair. It is indicative of less color fading of dyed hair, excellent anti-static properties and improved hair conditioning.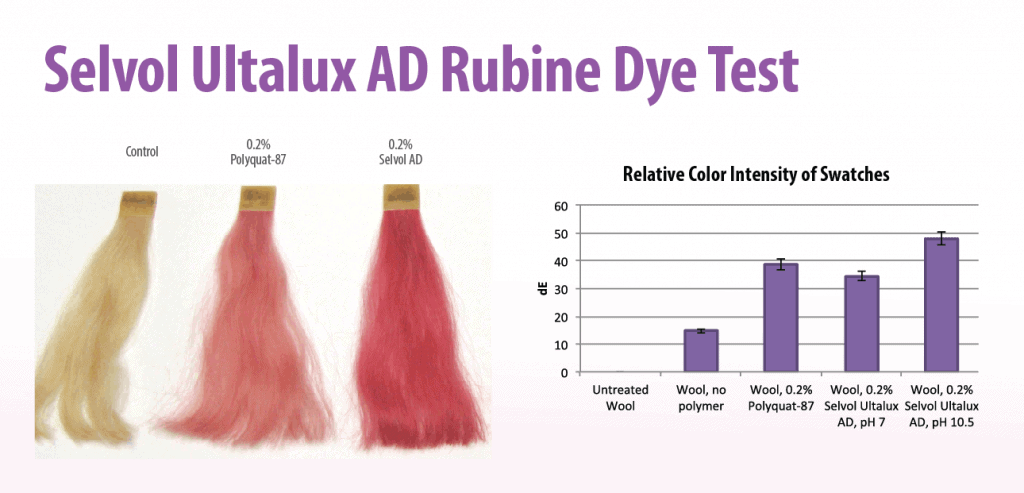 The adhesion to surfaces such as glass and PET is over an order of magnitude greater for films made with Ultalux AD than for films made using PVOH homopolymers. Adhesion was measured using a 90⁰ peel test. The adhesion improvement holds true for the AD based formulation on a range of surfaces.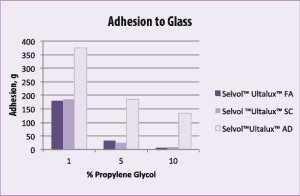 The charts above illustrate the greatest benefit of Ultalux AD: surface adhesion 10x greater than other Ultalux grades to a variety of substrates including hair and skin. Ultalux AD has high cationic activity, giving it improved anti-static properties and making it excellent for hair conditioning or dye uptake.
Selvol Ultalux AD is a PVOH copolymer (INCI: Vinyl Amine/Vinyl Alcohol Copolymer). Its advanced adhesion and film forming capabilities make it a great addition to skin care, color cosmetics, hair and rinse-off systems. Incorporation of the amine functional group within the Ultalux AD polymer imparts advanced surface activity with pH-targeted properties. Amine functional copolymers exhibit superior strength and adhesion to a range of surfaces including skin when compared with related anionic or nonionic polymers.
There are five cosmetic quality, third party tested grades of Selvol Utlalux; each imparting distinct characteristics ranging from viscosity and emulsion stability control to solubility modification, film forming and adhesion. The range includes a variety of molecular weights and two unique PVOH copolymers; Ultalux AD and Ultalux SC.
View the full poster presented at the Society of Cosmetic Chemist's Technology Showcase for more information on Utlalux AD and Ultalux SC.
For more information on the Selvol Ultalux polymer range, contact our Technology Center or order a sample today.