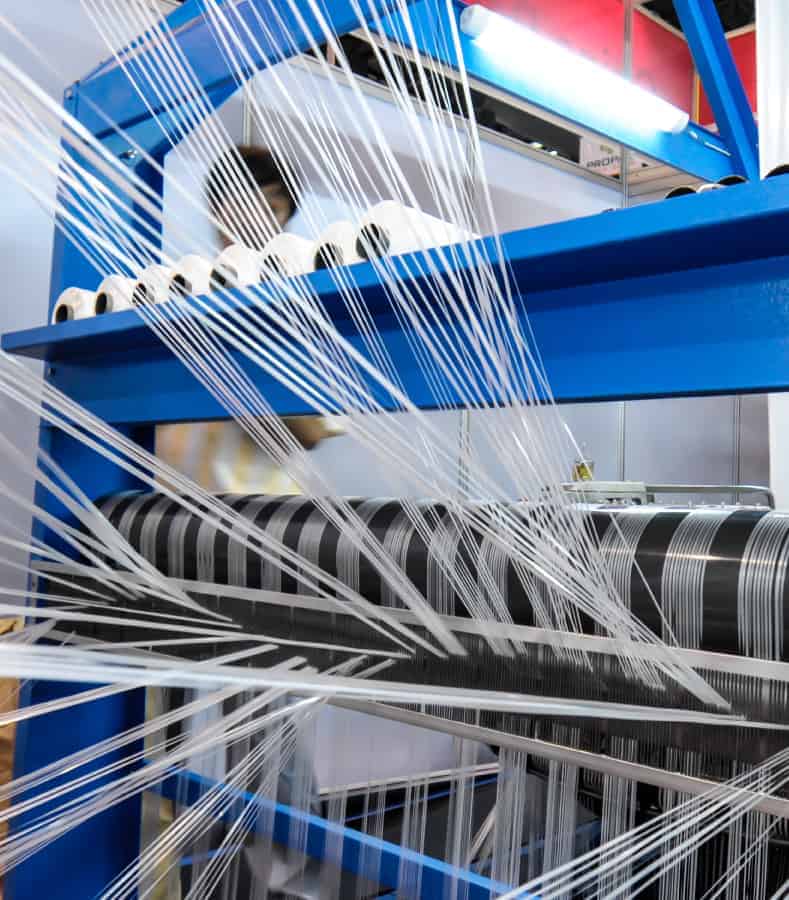 The weaving process is a fairly straightforward one: overlapping and crisscrossing two sets of smoothly interlaced yarns to produce a woven fabric. From warp beam to heddle to sley to breast beam to cloth roller, the loom's mechanized interlacing of two yarns has to function perfectly to avoid production headaches.
Industrial Weaving Process is Tough on Fibers
For proper textile weaving to run "perfectly," a few important characteristics are required from the textile fiber undergoing the warp sizing process:
Tensile strength
Fiber flexibility
Abrasion resistance
Film-forming
Good adhesion
Good penetrativeness
Easy removal
Potential Issues from Modern Weaving Process
Issues within the industrial weaving process can arise from inconsistent thickness, irregular patterns, or mechanical defects of the finished product. While some of these result from misaligned or worn down loom components, other issues originate from poorly prepped or mistimed warp yarns and weft yarns. Whatever the cause, larger production delays and greater quality control concerns will result.
This is why proper yarn preparation is required by textile manufacturers prior to submitting their material inputs for the mechanized process of weaving.
Effective Warping Process in Textile Industry
For the textile warp sizing to be done effectively, it must improve the tensile strength and protect the yarn fibers from the quick movement of industrial-scale looms. Regardless of whether the yarn needs to be beam warped or section warped, the preparation process is important for preparing a continuous sheet of warp ends, keeping all ends straight and parallel, improving the quality of warp yarn, and easily removed from the fibers.
Chemicals for Textile Warp Sizing
Polyvinyl alcohols (PVOH or PVA) and starches are both widely used chemical agents in textile warp sizing. While starch has historically been a popular chemical agent in warp sizing, polyvinyl alcohol inherently has more operational flexibility. This is why we developed our Selvol Polyvinyl Alcohol for the textile industry.
Using Starch for Textile Warping
Starch is a insoluble polysaccharide that's commercially available as a white, tasteless, orderless powder. It is often used as a thickening agent or a chemical stabilizer. This is due to starch's two composing polymers: amylose and amylopectin.
Amylose polymers bond together to form starch's cyclic structure, resulting in highly ordered crystalline regions. Meanwhile, amylopectin is responsible for starch's strong hydrogen bonding along the molecule, which results in its rigid structure.
For effective textile warping, starches are usually modified enzymatically or chemically through depolymerization to improve fiber performance. While this depolymerization increases starch's viscosity, the process also chemically affects the chemical's stability, adhesion strength, and film-forming abilities.
Starches are most commonly used on organic fibers:
Cotton
Hemp
Ramie
Viscose
Jute
Abaca
Bamboo
Wheat
Cane
Grass
Wool
Silk
Angora
Cashmere
Alpaca
Mohair
Using Polyvinyl Alcohol for Textile Warping
Selvol is a polyvinyl alcohol that's a white, granular, water-soluble resin. Our Selvol Polyvinyl Alcohol is manufactured by polymerizing vinyl acetate and hydrolyzing the resultant polymer to produce the alcohol.
Because PVA is synthesized from polyvinyl acetate, a variety of different grades of Selvol Polyvinyl Alcohol is available. The different grades that provide PVOH's performance properties are determined by two major factors:
Molecular weight
Hydrolysis level
Polyvinyl alcohols can be use on all types and mixtures of fibers:
Polyester
Nylon
Acrylic
Rayon
Cotton
Hemp
Ramie
Viscose
Jute
Abaca
Bamboo
Wheat
Cane
Grass
Wool
Silk
Angora
Cashmere
Alpaca
Mohair
The Selvol Polyvinyl Alcohol for Textile Warp Sizing is an excellent film former, providing a protective coating for spun and filament yarn. However, tough film can be easily removed with hot water during the de-sizing process.
Features of our Warp Sizing Chemical:
Superior abrasion resistance
Greater adhesion to synthetic fiber
Better warp flexibility for improved elongation
Increased warp thread strength
More user-friendly slashing performance
For more information, please download our brochure on Selvol Polyvinyl Alcohol for Textile Warp Sizing