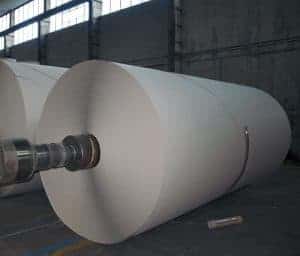 Paper manufacturers are looking for new end uses for coated or treated paper. One area of progress is food packaging; particularly packaging that provides some level of oil and grease resistance. Selvol polyvinyl alcohol (PVOH) is an extremely hydrophilic polymer, and as a continuous film, exhibits total barrier properties to oil, grease, and most organic solvents. However on paper and paperboard substrates, the add-on level of PVOH is limited by its viscosity to very low percentages based on dry fiber weight; true barrier properties are never achieved. But, even at low add-on levels, PVOH finds use in meeting papermaker's oil resistance needs, usually to a defined specification standard. Selvol PVOH is used on a variety of paper and paperboard grades for the purpose of controlling oil penetration in food grade applications, or to control ink penetration and feathering on uncoated printing and writing grades. The following are two commercial examples:
A recycled paperboard mill achieved a 20-unit Vanceometer improvement by switching to a 70/30 starch/PVOH formulation from a straight starch system.
A solid, bleached paperboard mill achieved an 80 Vanceometer specification, unobtainable with starch alone, by switching to a 60/40 starch/Selvol formulation.
These experiences typify the superiority of PVOH over starch. Laboratory studies have demonstrated that this superiority is due to the ability of PVOH to more effectively reduce the porosity of the sheet. These results have been confirmed in many other evaluations, including K&N ink holdout, Magic Marker pen holdout, ink feathering control, chocolate resistance, Vanceometer oil holdout, the 3M Kit test, and the TAPPI Turpentine Test T 454-OM-84.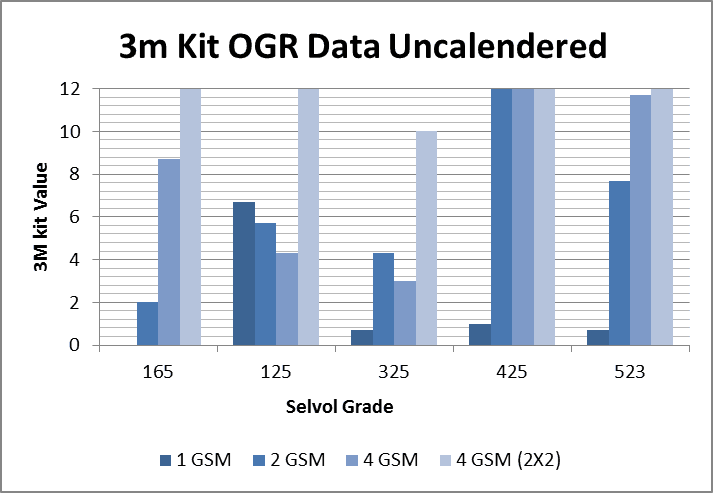 Selvol polyvinyl alcohol is widely known as an effective carrier for fluorochemicals in the manufacture of food grade paper and paperboard products. While fluorochemicals are highly effective at resisting oils and greases, they are also very expensive. Selvol PVOH provides a means of optimizing the performance of fluorochemicals so as to minimize their cost to the papermaker. When polyvinyl alcohol and the fluorochemical were blended and applied to the SBS paperboard, high 3M Kit Ratings were achieved at a cost much lower than with the fluorochemical by itself. An example is provided in Figure 2.
Extensive laboratory work has indicated that higher hydrolyzed Selvol PVOH grades perform consistently better than lower hydrolysis grades when used to carry fluorochemicals. The preferred grade is Selvol 125, but any of the following grades in may be used, Selvol 165, Selvol 325, Selvol 350.

For more information on formulating with Selvol PVOH, please contact our Technology Center or request a sample here.
Selvol 425: our most popular grade for oil resistance and ink holdout