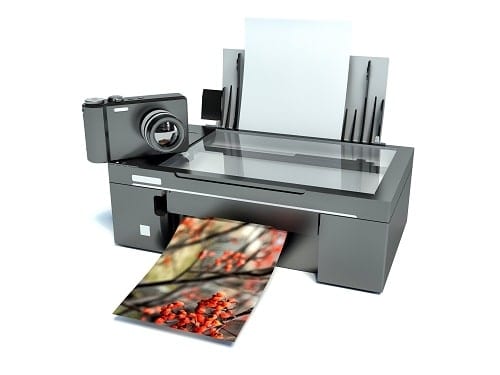 Advances in ink jet printing technology have resulted in a new generation of ink jet printers which can print faster at wider paper widths, producing four-color images close to photography quality. Ink jet printing papers must respond to these changes through quick ink absorption, minimizing ink bleed and ink wicking while retaining favorable ink optical density values. To meet these demands, many papermakers are turning to pigmented size press and coatings formulations. The pigments of choice for ink jet formulations are typically precipitated, fumed or colloidal silicas, and the binder of choice is Selvol Polyvinyl Alcohol (PVOH) because of this material's unique performance characteristics.
The following is an excerpt from our brochure on Selvol for Ink Jet Printing Papers.
Selvol Polyvinyl Alcohol for Ink Jet Printing Papers
Recommended Grades and Starting Formulations
Selvol 523, Selvol 205 or Selvol 203 are the recommended PVOH grades for coating applications. They are partially hydrolyzed (87-89% ) with medium, low and ultralow molecular weights respectively.
Formulations containing these products will allow for maximum coating solids and lower high-shear rheology, as compared with their fully hydrolyzed counterparts.
Recommended starting formulations for ink jet coatings are
shown below.
Additives in Ink Jet Coatings
Selvol PVOH possesses a nonionic charge and, therefore, is compatible with most coating additives, including all types of cationic additives and surface sizing agents. To help improve the water-fastness and to reduce ink bleeding of the ink jet printed sheet, cationic dye fixatives are recommended as part of the coating formulation. Cationic polymers such as polyethyleneimine, poly-DADMAC or polyvinyl amine at addition levels of 1 to 3 parts by weight, should provide the desired characteristics.
Coatings Formulation Makedown
The following procedure is suggested for the preparation of a silica/Selvol coating:
1. Slurry the silica pigment at the highest possible solids according to the manufacturer's recommendations.
2. Solubilize the Selvol PVOH by the slowly slurrying the solid powder into <90˚F water and raising the temperature to 205˚F. Hold the temperature at this level for 20 to 30 minutes. The addition of a defoamer prior to solubilization of the PVOH is recommended.
3. Slowly add the silica slurry to the solubilized PVOH under agitation after the temperature of the PVOH solution has dropped below 130˚F.
4. Mix in additives after the Selvol PVOH has been added.
Air Knife Coating Formulation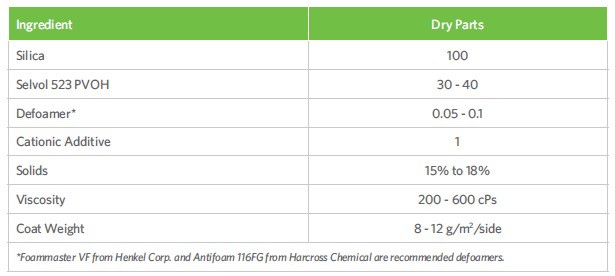 Rod/Blade Coating Formulation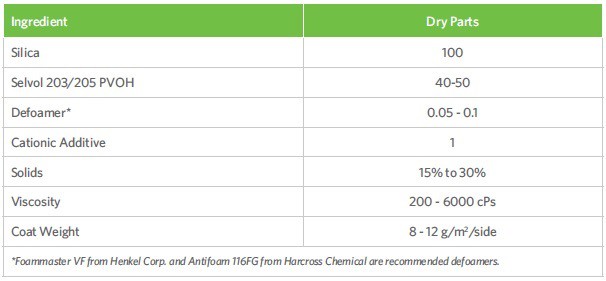 For specific information on formulating with Selvol PVOH, please contact our Technology Center.